2019 Tours of Pat Sutton's Private Wildlife Garden (42 Years in the Making)
Our wildlife garden has evolved over the last 42 years from a lawn and very few plantings (a Lilac bush and Day Lilies) to probably 100+ native plants and many different components (perennial garden, pocket meadow, shade trees and gardens, wildlife ponds, native woodland, living fences, etc.)  that all lure in and benefit wildlife.  Read this brief history to learn more.
This is the 3rd year I have led tours of my own wildlife garden for CU Maurice River, a non-profit organization (registration will be required through CU Maurice River, not through me).  Sign up for the session that best fits your schedule:
As of June 21, both tours are SOLD OUT (WAIT LIST ONLY).  To be added to the wait list e-mail CitizensUnited@CUMauriceRiver.org
July 13, 2019 (Saturday) — 2 tours:  (1) 9:30 a.m. to Noon (Morning Session), (2) 2:00 to 4:30 p.m. (Afternoon Session) — LIMIT/tour: 20.   COST/tour: $20 (CU member), $30 (nonmember).   To register for this CU Maurice River trip click HERE to reserve your spot now (or) call the CU Maurice River office at (856) 395-3238.  Sunday, July 14 is the Rain Date.
About the 

Tours of Pat Sutton's Private Wildlife Garden 

in Goshen, NJ (Cape May Co.), 
largely a NATIVE PLANT OASIS 
on July 13, 2019 (Saturday)
Join me for a tour of my 42-year-old wildlife garden in Goshen (Cape May Co.), NJ. During the tour we'll study and identify pollinators and see many "Chocolate Cake" natives (and some nonnatives that are not problematic) in action. I'll share mistakes I have made and joys the garden has brought us. Our garden showcases many different ways a habitat can offer the basics: food, cover, and water.
Our ½ acre property was largely bare in 1977. See how it's grown since then. We've planted native shade trees (from tiny 1′ tall seedlings) that today tower over the house, put in two wildlife ponds, a pocket meadow (where we previously mowed), extensive shade gardens, wildlife corridors, shrub islands, a woodland of native plants (saved from a jungle of Multiflora Rose in 2009), an extensive butterfly and hummingbird garden (also full of native bees and so many other beneficial pollinators), native nectar plants galore, an extensive array of native host plants, feeding stations, and many and different water features.
You are sure to enjoy many fun garden features and design ideas in this garden. This totally educational experience will benefit and dazzle long-time gardeners and new-to-wildlife-gardening participants alike.
For the past 2 years I've led this tour for CU Maurice River in mid to late August, so this mid-July tour will be a new experience with a whole new world of blooming native plants to entertain and entice.
I can't wait to share my gardens with tour participants. The gardens have just burst into bloom with Beebalm, Sundrops, and Culver's Root. Coral Honeysuckle and Coral Bells are blooming and pulling in hummingbirds. And many, many other native perennials are in bud and will be in full bloom by July 13!   From now until the frost every day will be a different mix of blossoms.
Ruby-throated Hummingbird activity is insane right now! I have a feeder outside my office window (as I write this) that entertains me non-stop as multiple hummingbirds feed (tolerating each other), while others dash in to drive them off and settle in for their own long drink. Of course we also get to enjoy them feasting on insects and nectar throughout our property.
Our wildlife ponds were deafening this spring with Spring Peepers calling from mid-April to the end of April. S. Gray Treefrogs have been courting (i.e. calling!!!) and mating in the garden and ponds since early May. Any rainy night there is a resurgence of them. Lots of tadpoles lurk in the depths, soon to emerge. Leopard Frogs have settled in. Green Frogs will soon follow.
Found my 1st Monarch caterpillar (it was sizable: 1/2″) on our Common Milkweed on May 26, so I obviously overlooked the egg-laying female. We've had several Monarchs in the garden since, including females laying eggs on June 5, 15, & 17. This morning I easily found teensy tiny Monarch caterpillars by looking for holes in milkweed leaves, peeked under the leaf, and low and behold there were was a hungry caterpillar.
Dragonflies galore are patrolling the garden and our woods, mating and laying their eggs in our ponds. We're finding lots and lots of exuviae on pond plants (what's left behind when a dragonfly emerges as a winged adult from its underwater nymph life stage).
Butterfly diversity and numbers are picking up, especially now that I have my gooey fruit dishes set up.
PLANT IT AND THEY WILL COME, and they have! I am looking forward to sharing the joy that our garden has given us (and could give to you too if you get hooked on native plants and wildlife gardening)!
Maybe take a peak at the history of our 42-year old wildlife gardens on our website: HERE.
Before / after the garden tour you may feel inspired to add new plants to your garden . . . If so, there are 2 very close opportunities to acquire native plants:
Josh Nemeth, The Wildlife Gardener, will welcome tour participants at his nursery (behind his house) from Noon to 1 p.m. (after the morning tour) and from 4:30-5:30 p.m. (after the afternoon tour) at 795 Goshen Road, Cape May Court House, NJ 08210 (3/10 of a mile from Suttons' Garden); info@njwildlifegardener.com ; (609) 536-8036. The Wildlife Gardener cannot accept credit cards at this time, so all sales are cash or check only.
Goshen Gardens (Nursery), 570 N Delsea Drive (Route 47), Cape May Court House, NJ 08210 (2 ½ miles from Suttons' Garden); 609-778 4075; goshengardensnj@gmail.com; www.goshengardensnj.com; OPEN every Saturday and Sunday through late October, 9:00 a.m. to 4:00 p.m. If attending the afternoon tour, you'll want to stop in beforehand, as they will be closed after the tour.
* * * * * * * * * * * * * * * * * * * * * * * * * *
For twenty-three years (1991-2014), I led "Tours of Private Wildlife Gardens" in Cape May County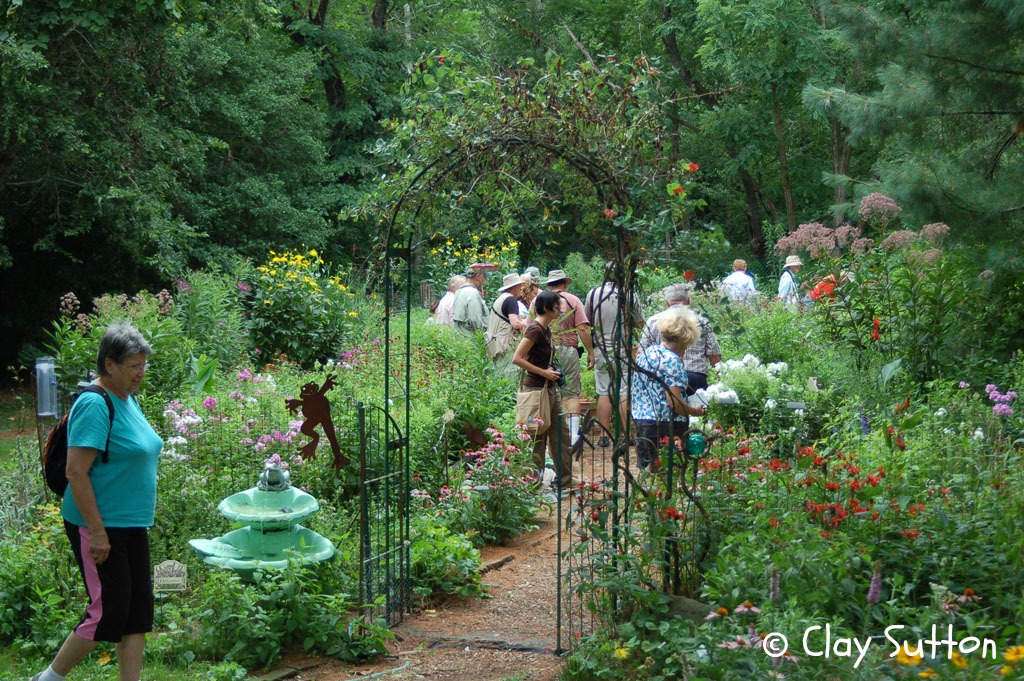 Pat and Clay Sutton's garden during the July Tour 2014
For twenty-three years (1991-2014), I led "Tours of Private Wildlife Gardens" in Cape May County.  I saw these tours as one of the best ways  to "grow" more wildlife gardeners.  You can see the excitement in the photo above as tour participants find, study, and share with each other butterflies, spiders, caterpillars, native bees, frogs, turtles, hummingbirds, and the beautiful nectar plants, host plants, wildlife ponds, water features, and habitats that have attracted them.
Initially I led these tours for NJ Audubon's Cape May Bird Observatory, where I worked as the Program Director.  Between 2007-2014 I led the tours for NJ Audubon's Nature Center of Cape May.
Many of the owners of these beautiful, private, wildlife gardens had taken workshops with me and / or attended these tours.
Many garden owners shared with me that a personal goal was to have their own garden included on these tours.  The number of wildlife gardens grew and grew.  Eventually there were so many educational gems to share that I broke Cape May County into three regions and led back-to-back tours, covering different parts of the county each day.  I led these tours in July, August, and September so attendees could see first hand the different "Chocolate Cakes" in bloom month-by-month and the variety of wildlife attracted.
On the final tour, garden-owner Gail Fisher presented me with my very own Chocolate Cake made by her Mom (it was delicious).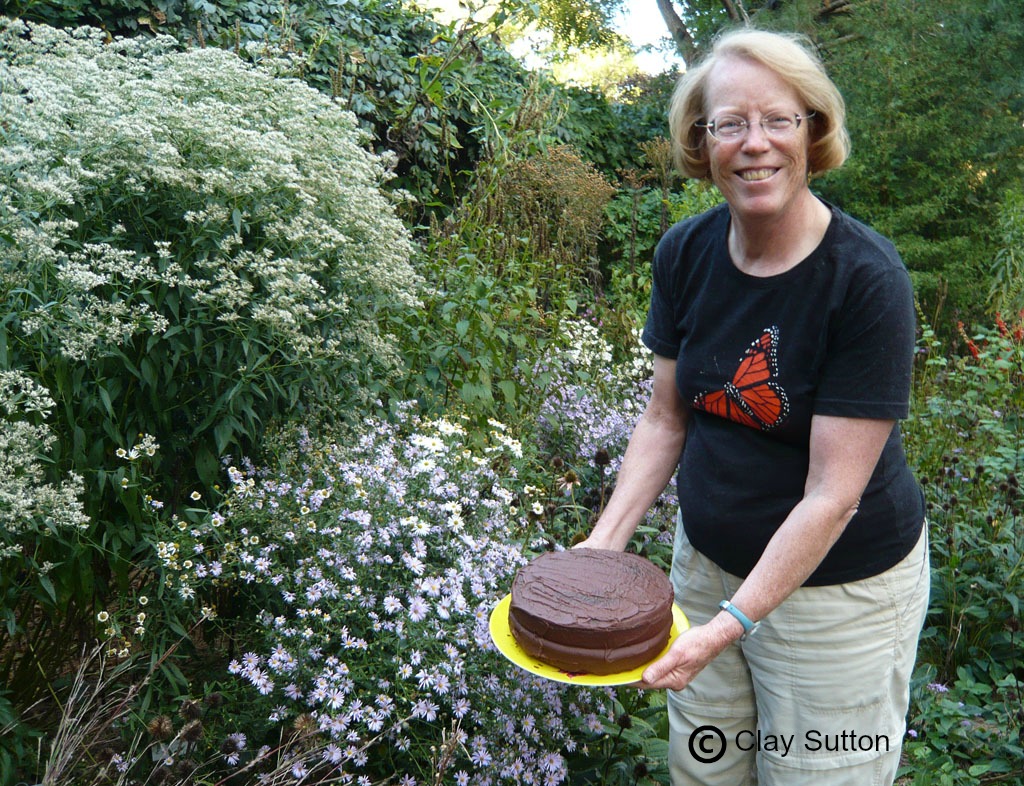 And to further spoil us on that final September 2014 garden tour Gail Fisher served homemade Chocolate Cupcakes.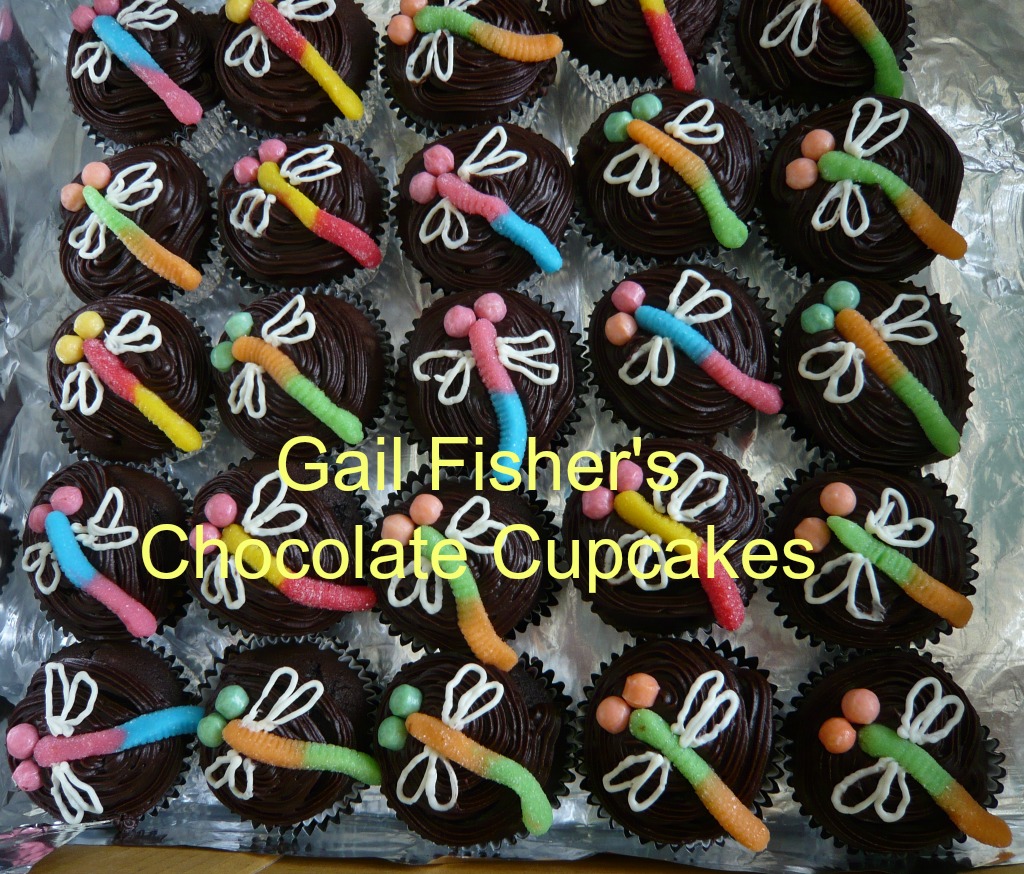 TAKE A VIRTUAL TOUR OF PRIVATE WILDLIFE GARDENS
Many of the gardens that were included on the Cape May County tours can be seen in the photo galleries below.  These photos (taken over the years) truly record the evolution of these private wildlife gardens and may give you some great ideas for your own garden.
South Tour (Cape Island: Cape May, Cape May Point, West Cape May, and Lower Township)
Mid-County Tour (North Cape May, Villas, and Erma)
North Tour (Cape May Court House, Goshen  . . . including my own garden, Dennisville, Eldora, South Seaville, and Ocean View)