HummerBird Celebration in Rockport, Texas (don't miss it)!
Hi Gang,
Clay and I have been very fortunate to have been invited to festivals and conferences around the country (over the years) to present our programs and workshops.
One of my all-time favorite festivals is the HummerBird Celebration in mid-September, when thousands upon thousands of Ruby-throated Hummingbirds are migrating through Rockport, Texas, on their way to southern Mexico or as far south as Costa Rica and northern Panama where they winter.
It is an amazing show of HOPE that Rockport, Texas, is going to host their:
30th Anniversary HummerBird Celebration
Rockport, TX
September 13-16, 2018
for full details go to the event's website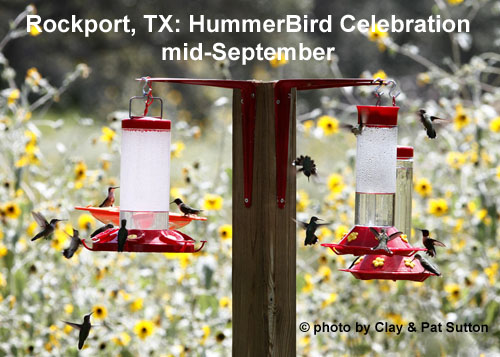 This year's Keynote Speaker is good friend and amazing mentor, high school science teacher, and nationally recognized educator, Martha McLeod.  On Thursday, September 13 (at 6:30 p.m.), don't miss Martha's Keynote Presentation, "Harvey, Hummingbirds and Hope," based on her experience in Rockport, Texas, where she lives, when Hurricane Harvey hit and destroyed much of the town on August 26, 2017, just prior to the peak of the hummingbird migration.  Martha was chosen as Birdwatcher's Digest "Birder of the Year" for the piece she wrote about this experience (featured in Bird Watcher's Digest's March/April 2018 issue).  Clay and I won't be able to be there this year, but please give Martha a "Hello Hug" from both of us if you should go!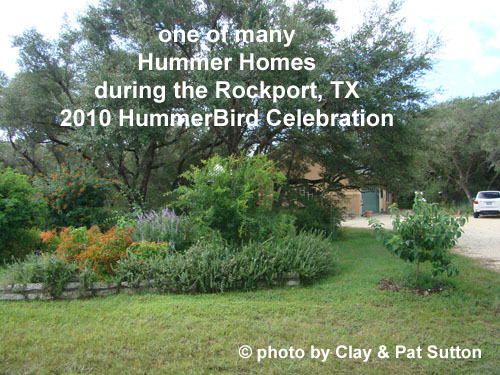 We've been to the HummerBird Celebration 4 times and loved every single visit.  My favorite part of this festival is the opportunity to explore and linger in dozens of "Hummer Home gardens" (private back and front yard wildlife habitats with dozens and dozens of well-maintained hummingbird feeders) that are open to attendees of the HummerBird Celebration from dawn to dusk, September 13 (Thursday) to September 16 (Sunday).  The numbers of hummingbirds in sight in each of these gardens is beyond belief!  Hundreds in view in every direction you look!  If you don't believe me, GO!!!  I was speechless with wonder the first time we went and continued to be amazed with each of our visits.  Seriously consider a road trip (or a flying trip) to experience this amazing concentration of our beloved hummingbird, the Ruby-throated Hummingbird.  I promise you that you won't regret it and you'll probably want to make an annual pilgrimage to the HummerBird Celebration each year in mid-September to drink in the Ruby-throated Hummingbird's amazing migration and how they benefit from all the stopover habitat in this town.
The HummerBird Celebration is packed with non-stop events (boat birding trips, speakers, banding demonstration, vendors, hummer home guided bus trips (I did this the 1st year, not realizing that I could go on my own and spend as much time as I wanted in each garden or my favorite gardens), bird photography classes, and more!
The fact that Rockport, Texas, is hosting this 30th Anniversary HummerBird Celebration is another sign of hope, hope that this town (devastated by Hurricane Harvey only a year ago) can continue to rebuild and thrive once again!
To hope, hummingbirds, and the revival of Rockport, TX!
Pat