Hi Gang,
As part of the Avalon Environmental Commission's "Pollinator Garden Series" (click on underlined text to see other programs I will be doing in Avalon in August and September) I will be leading a tour of two private backyard habitats in Avalon, NJ, next Wednesday, August 9, 2023, from 9:30 – 11:30 am.  The Avalon Environmental Commission is hosting this tour.  Donna Rothman, Chair of the Avalon Environmental Commission, will be sharing her garden on this tour.
One garden has been transitioning to native plantings for wildlife for some time.  In this garden participants will get to see some sizable native trees and shrubs that are hugely beneficial to migrant and breeding birds, as well as butterflies and moths for egg laying.  Native perennials have been added as well, including milkweed, to  beds of ornamentals.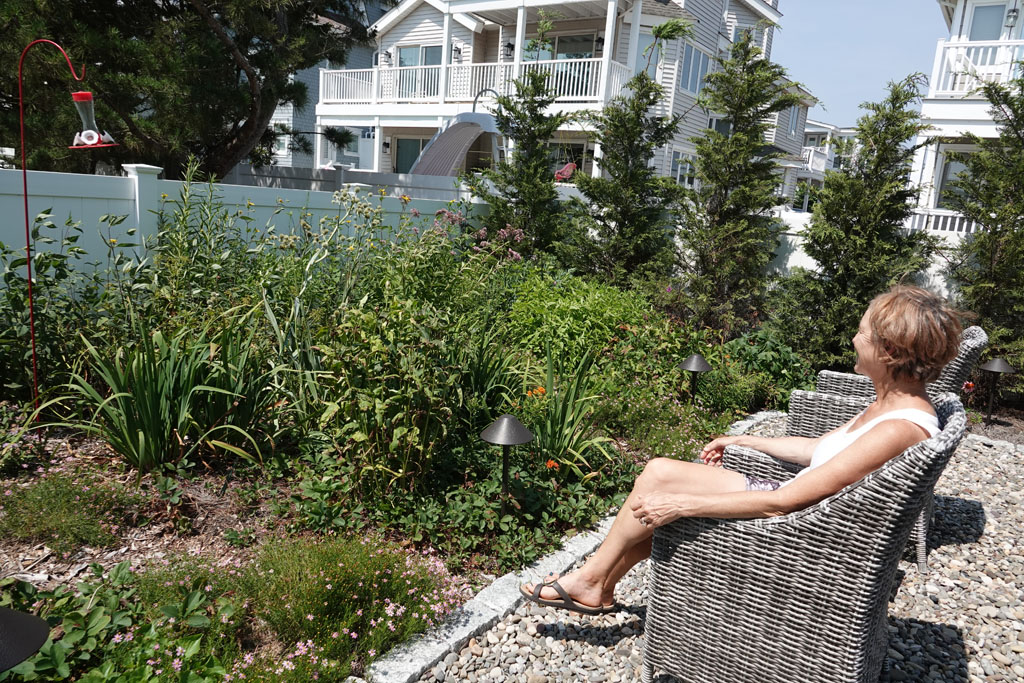 The second garden is brand spanking new as of last May (planted May 23, 2022).  By August 2022, when only three months old, this 12′ x 25′ native plant pollinator garden was already drawing in butterflies, egg-laying Monarchs and Black Swallowtails, native bees, flies, and wasps (all beneficial pollinators), and birds.  It has been a haven and teaching garden ever since for the owners' two grandsons as they studied the life cycles of Monarchs and Black Swallowtails.
Join me if you can.  We'll meet at the Avalon Pollinator Garden (71st Street and Ocean Drive, Avalon, NJ) in Armacost Park, orient participants, and soon after drive (in our respective cars) to the 1st garden, then on to the 2nd garden.  Please arrive promptly (shortly before 9:30 a.m.) to be oriented for the tour and so that we can leave shortly after to have as much time as possible in the two gardens.
Tour Two Private Backyard Habitats in Avalon, NJ
with Pat Sutton and the Garden Owners
Wed., August 9, 2023 (Rain Date: August 10)
9:30 am – 11:30 am
All are welcome. FREE. No preregistration necessary.
Meet at Avalon Pollinator Garden on 71st Street and Ocean Drive in Avalon, NJ, for orientation, then participants find their way to the two private yards in Avalon.
TOO, if you haven't marked your calendar yet, DO NOT MISS Doug Tallamy's upcoming presentation in Avalon, NJ, on Mon., August 28, at 7:00 pm, "Homegrown National Park," where you will learn the importance of landscaping with native plants to life itself!  Details HERE and HERE).
Learn all about our MOTTO, "Plant it, a NATIVE PLANT GARDEN, and they will come!"
Pat