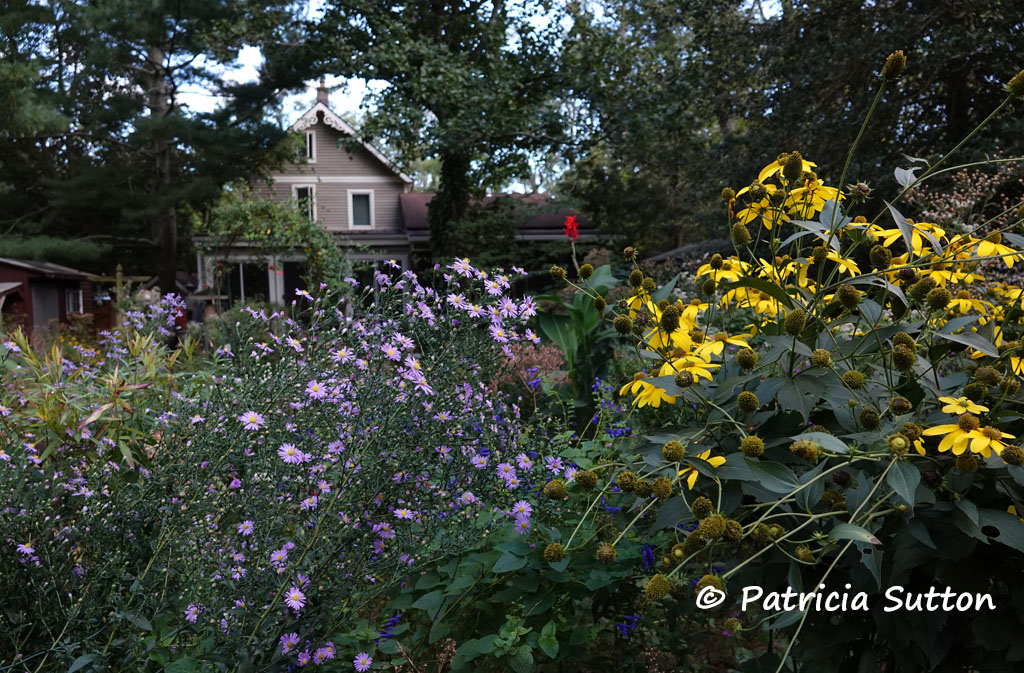 Once hooked on wildlife gardening with native plants, it can be a real challenge to find native plants.  Yes a few have been mainstreamed, and the nursery down the street may carry them.  But beware of cultivars of native plants.  Cultivars are plants created or selected for specific characteristics such as early blooming or color, often at the expense of nectar, berries (the plants may be sterile), and sometimes even the leaf chemistry is changed so the plant can no longer be used as a caterpillar plant.  We (wildlife gardeners) want the nectar, the berries, and we want the leaf chemistry intact so our butterflies can create the next generation!
Be careful too that your plants are Neonicotinoid free.  Neonicotinoids are systemic (get into every part of the plant, including pollen, nectar, even dew) pesticides that are applied to many commercially-available nursery plants and are harmful to bees, caterpillars, moths, and butterflies.
Around the world steps are being taken to protect pollinators from neonics. In 2018, the European Union voted to completely ban all outdoor uses of three types of neonics (citing their impacts to honey bees). Canada followed suit, planning to phase out all outdoor use of three specific neonics in 3-5 years (2021-2023) because of impacts to aquatic ecosystems. In 2016 Connecticut became the first state in the nation to restrict the use of neonicotinoids when the legislature unanimously passed An Act Concerning Pollinator Health (banning sales of neonics for use by general consumers in backyard garden settings). Soon after, Maryland passed a similar bill that restricts the sale of neonics and bans their use by consumers.
Educate yourself about Neonics by reading the following:
HUGE IINSECT DIE-OFF / INSECT APOCALYPSE
'A car "splatometer" study finds huge insect die-off'
Nov. 13, 2019, by Damian Carrington, Environmental Editor, The Guardian
Measuring how many bugs fly into car windshields might sound silly. But to scientists predicting an "insect apocalypse," the numbers are deadly serious.
'Insect apocalypse' poses risk to all life on Earth, conservationists warn        Feb. 12, 2020, by Damian Carrington, Environmental Editor, The Guardian
BIRDS ARE VANISHING
"Birds are Vanishing from North America"
The number of birds in the United States and Canada has declined by 2.9 billion, or 29 percent, over the past 50 years (1970-2019), scientists find (Science, 2019).
"A Neonicotinoid Insecticide Reduces Fueling and Delays Migration in Songbirds," by Margaret Eng, Bridget Stutchbury, Christy Morrissey.  Science, 13 September 2019, Vol. 365, Issue 6458, pp. 1177-1180.
WHAT WE CAN DO
Here are just a few of the things that each and every one of us can do:
Plant NATIVES, especially Keystone Species (read Doug Tallamy's books to understand what Keystone Species are).
Ask nurseries you frequent if their native plants have been treated with Neonicotinoids. If they don't know, ask them to find out. If the answer is yes, don't purchase and explain why, that Neonics are hazardous to the wildlife you are trying to attract and benefit.
Leave fallen leaves on the ground: they are full of insect life, they protect tree and shrub and perennial roots, they break down and naturally nourish your soil, and they prevent erosion.
DO NOT USE Pesticides (including Organic – they KILL too) or Herbicides or synthetic Fertilizers.
Turn outdoor lights OFF at night (use motion sensor lights instead).
Remove as many invasive plants as possible on your property
Share some of your native "Chocolate Cake" perennial divisions (that are also Keystone Species: Asters and Goldenrods, for example) with others to help get them hooked
Read and give Doug Tallamy's books (Bringing Nature Home, Nature's Best Hope, and The Nature of Oaks ) to family members, friends, co-workers, neighbors.
If you ever have a chance to hear Doug Tallamy speak, BE THERE and bring your neighbor, friend, family member, landscaper, lawn care service worker so they can learn to speak the same language. In the meantime Google "YouTube videos (or podcasts) Doug Tallamy" and you'll have dozens to choose from, many of which are keynote talks he's given about the importance of insects, native plants, and much more. Watch them and they may change your life and/or the way you view life. Share them with neighbors, friends, family members, co-workers.
Read and give Heather Holm's books (Pollinators of Native Plants; Bees, An Identification and Native Plant Forage Guide; and Wasps, Their Biology, Diversity, and Role as Beneficial Insects and Pollinators of Native Plants) to family members, friends, co-workers, and neighbors to help you (and others) understand beneficial pollinators and provide for their nesting needs by leaving stem stubble during spring garden clean up, standing dead trees, utilizing fallen branches and tree trunks to line garden or woodland paths, and avoiding too much hardscaping, mulching, and turf so that ground-nesting pollinators have places to nest.
Share all this with your neighbors, friends, co-workers, family
To help people find the top ranked plants in their county Doug Tallamy, author of Bringing Nature Home, is working with National Wildlife Federation on their Native Plant Finder website.  In browsing this site, there are many, many plants for my own area (Cape May County, NJ) that I have been promoting for years and know to be TOP ranked plants that are not yet included . . . so keep checking back and realize that this is a work in progress.
The Jersey-Friendly Yards Website has many helpful resources. Use their searchable plant database to help you select plants for your site. The database has many filters including a "native plants only" filter showcasing @ 300 natives, as well as filters for wildlife value, region, ecoregion (including barrier island/coastal, Pinelands), deer resistant, light requirement, soil type, soil moisture, drought tolerance, salt tolerance, bloom color, bloom time, plant type, and more.   The site also includes a list of nurseries that sell natives county-by-county.
The Meadow Project ("Urban and Suburban Meadows" and "Hometown Habitat" by Catherine Zimmerman) shares an excellent state-by-state "Find Native Plants" link, with many additional sources of native plants.
Be sure to also check with your state's Native Plant Society to see if they have a list of nurseries that carry native plants.  The Native Plant Society of NJ's Native Plant Nurseries list includes the percentage of natives that each nursery carries, so you can readily see which nurseries you can let your guard down in and which you need to pay sharp attention.